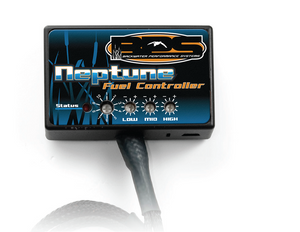 Neptune EFI Controller
Part Number
PC-51
The BPS Neptune fuel controller was designed from the ground up to be used with our three proven engine performance upgrade packages to produce safe horsepower on Vanguard 37 EFI engines.
The Neptune controls each cylinder individually to produce safe, and powerful air/fuel ratios.
The left dial switches between the three pre-programmed fuel maps. 4-10 positions are stock.
The low, mid, and high dials give you 5% +/- adjustability of the fuel in those rpm ranges.
Simple 10 minute installation.
WARNING: This product is for racing purposes only. The installation of this product will void engine manufacturer's warranty. The pre-programed fuel maps are configured to our three specific performance upgrade packages. The use of this product with any other parts could result in engine damage.
---
We Also Recommend
---